Scope of services
Ophthalmology outpatient clinic
We offer quick and professional help e.g. in complex diagnostics of eye diseases.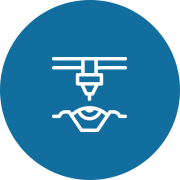 Ophthalmology hospital
We perform a range of ophthalmological procedures thanks to which you may enjoy healthy vision.
Optic store
Our store combines professional consultancy with a rich offer of frames from renowned brands.
Vaccination centre
We provide a wide range of preventive vaccination, e.g. against seasonal influenza or COVID-19.
Laser vision correction
Durable and safe method restoring full visual acuity. In Delavi, we use a technologically advanced Amaris 750S laser.
Read more
Our specialties
Glaucoma
Cataract surgery
Retinal treatment and vitrectomy
Age-related macular degeneration (AMD)
Read more
Who we are
Delavi is a modern ophthalmology centre with an ophthalmology outpatient clinic, ophthalmology hospital and an optic store.
Read more
Our doctors
Specialist knowledge, high qualifications and empathic approach of the doctors are the main pillars on which patient safety is based.
Read more
Equipment
Thanks to the qualified team we have access to advanced medical technologies. As a result, we use innovative systems to diagnose and treat eye diseases.
Read more